Captain Daniel Watkins was born June 28, 1797 and married at the age of 24, Harriet Richards June 15, 1821 in the town of Hinsdale.
Harriet was the daughter of William Richards who was a Colonel during the Revolution and marched for the relief of Boston at the Lexington Alarm April 1776.
When Col. William Richards retired from the Continental Army in 1784, he purchased 200 acres in the township of Partridgefield from agents to the Commonwealth of Massachusetts.
The 200 acre lot was one of 33 lots in Partridgefield confiscated from Elisha Jones who was an original proprietor of the township of Partridgefield. The lots were confiscated due to a conspiracy against the new and independent country. Jones was accused of keeping the King informed of movements of the Continental Army during the Revolution.
This 200 acre lot was lot # 119 of the original survey and was eventually called the "Primrose Farm".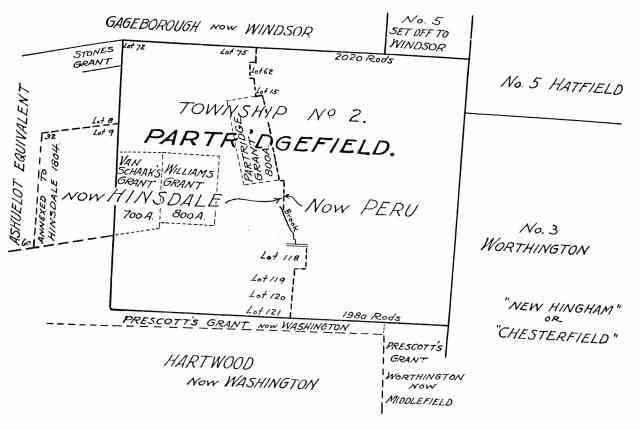 When Col. William Richards died, at the age of 52, the farm was left as the widows dower to his wife Monica Frissell who died Dec. 29, 1831, at the age of 64. The farm then went to William and Monica's oldest son Hiram. Hiram and his wife Betsey, sold the farm to Hiram's sister Harriet and her husband Daniel Watkins in 1841.
Children of Daniel and Harriet Watkins;
Angelia M. (twin) born Nov.13, 1823 in Peru
Cordelia D. (twin) born Nov.13, 1823 in Peru
Monroe F. born Mar. 21, 1828 in Peru
Monroe Watkins was born in the town of Peru March 21, 1828 and was married in Hartford, Connecticut Oct. 8, 1851 to Sarah W. Richards. They were married by the Rev. Horace Bushnell of Hinsdale at Hartford.
Monroe F. died at the age of 46, but in his short life he was able to acquire much personal and real estate. At the time of his death in Aug. 1874, only 3 months after his father Daniel died, his personal and real estate were inventoried and valued at a total of $27,982.25.
The personal estate consisted of articles such 74 sheep, 600 pounds of wool, carraiges, sleigh's, silverware, an organ, a gents gold watch valued at $200., 1,285 lbs. of tobacco and notes due to Monroe equaling $3,197. Real Estate consisted of the home farm, east lots, S. Watkins lot, Bullard meadow, and the Plunkett Farm. Real Estate value, $15,975.00.
Children of Monroe and Sarah;
Eugene C. born about Mar. 21,1858
Virginia married Allen R. Pye June 18, 1890.
An infant that died young. Aug. 5,1852 1 wk. 3 dys.
Eugene Watkins was born Mar. 21, 1858 and married Mary Jennie Curtiss January 31, 1883. In 1883 they traveled west to where the mining boom of 1882 was taking hold in the Rocky Mountains into the San Juan region at Cunningham Gulch near Silverton Colorado. Spending two years, partly in the famous Highland Mary mine working, investigating, and exploring that locality, returning at the end of that period to the more peaceful and quiet occupation of a farmers life.
Concentrating on success with the farm, Eugene began making improvements to the farm. While making improvements to the water supply of the farm, which the herd of stock would required, Eugene was excavating the spring and reservoir at the apex of the mountain. It was said that he found gold nuggets the size of fillings along with silver and platinum.
According to the Pittsfield Sun June 4, 1896, the tests and assays subsequently made by the most competent experts under the supervision of a former mining superintendent and friend, proved to the satisfaction of himself and associate capitalists, that here was a true fissure vein of quartz carrying gold, silver and traces of platinum of a paying grade sufficient in magnitude for a solid and continuous development.
On March 30, 1905, at about 10:30 a.m., Eugene's wife Mary Jane (Jenny) Watkins wondered where he was and became concerned with the whereabouts of her husband. After a short search she noticed that the attic door had been left opened and proceeded into the attic, She was to discover that Eugene had placed a board across the cupola opening at the center of the attic and successfully hung himself. It was afterward reported that he had told a close friend that because of a serious case of gout, he was unable to spend a single day without suffering.
Mary Jane died May 14, 1927 at the age of 66.
Children of Eugene and Mary Jane;
Ida Emma was born Nov. 4, 1883 in Hinsdale and married Ed Klein.
Monroe Franklin was born in the Dakota Territory May 21, 1886 and married Ophelia Minnie Forward June 24, 1908 the daughter of John Forward and Hester Selena Tuggey.
Raymond was born in the Dakota Territory June 27, 1887.
Raymond died May 17, 1937 just three days before his sister Ida, who died May 20th 1937 at the age of 53.
Monroe F. Watkins was born May 21, 1886 in the Dakota Territory, and at an early age he and his family returned to Hinsdale to work the farm. At about the age of twenty, Monroe had a team of horses that worked the farm and that he also hired out.
He work with his team in the spring for the town, but mostly he worked his team at the lumber mill of his father in law John Forward who came to Hinsdale from Bath, England.
John Forward lived on the corner of Middlefield Rd. and Smith Rd. and had a sawmill and cider press on the Tracy Brook.
I am unsure of the production of lumber, but the cider was a popular and sought after commodity in and around Hinsdale for the many years that John ran the mill.
Monroe and Ophelia had a son Franklin who married Lilly Martin of Middlefield Road who still lives at Primrose.
Watkins Lineage
Andrew Watkins came to America in the mid 1600's and located in Roxbury Massachusetts. On September 3, 1686 on the westward hill of New Roxbury (now Woodstock Conn.), where he was granted 20 acres of land. No evidence of him taking his family there is certain.
His birth and his death records are not to be found, but his marriage to Elizabeth ______was January 7, 1686 at Roxbury.
Their children;
Andrew born about 1675 in Roxbury
Peter born about 1677 in Roxbury
Samuel born about 1680 in Roxbury
Elizabeth born about 1682 in Roxbury
She married Joshua Smith Aug.23,, 1709 in Dedham Mass. son of John and Abigail Smith.
Mary born about 1684 in Roxbury
Sarah born about 1685 in Roxbury
Abigail born about 1686 in Roxbury
Andrew Watkins was born about 1675 and married Mary Streeter Dec. 10, 1701 in Charlestown Massachusetts. Mary was from Cambridge.
On March 9, 1710/11 Andrew was deeded from his stepfather Edward Cook, all of Edward's land in Needham including his home. The land consisted of 10 acres at Maugus Hill and 6 acres in the Natick Dividend. Also Cook's common right as a proprietor of Dedham.
In 1720 Andrew, yeoman, and Mary sold the 10 acres at Maugus Hill, and also 4 acres near the dam in Rosemary Meadow for 40 pounds and removed from Needham to Hopkinton Massachusetts.
Children all born at Needham;
Elizabeth born Oct. 8. 1703
Mary born Jan. 16, 1705/06
Andrew born Mar. 5, 1706/07
Stephen born Aug. 20, 1708
Deborah born Jan. 16, 1713
Joseph born July l6, 1715
Zachariah born 1719
Benjamin born about 1720
Andrew Watkins was born March 5, 1706/07 in Needham Massachusetts. He married Thankful Cook, ( possible daughter of Robert and Submit Cook), on May 12, 1730 in Hopkinton.
Children all born at Hopkinton;
Stephen born December 11, 1732
Andrew (a Major)
Nathan
Thankful
William
James
Samuel
Martha
John
Daniel twin
Stephen twin
Samuel Watkins birth record was not found but he was baptized September 28, l746 at Hopkinton Massachusetts. He was married September 11, 1766 at Natick to Susanna Travis.
Samuel and some of his brothers came to Partridgefield, (now Hinsdale and Peru ), about 1790. Samuel died in Hinsdale May 8, 1813 at the age of 66.
Samuel and Susanna's children;
Elisha born about 1768
Samuel born about 1772
Lawson born about 1774
Rufus
Luther
Susanna (Susanna married at Peru February 10, 1801 Amos Stearns)
Fanny (Fanny Watkins married Daniel Brown at Hinsdale March 12, 1820).
Elisha Watkins was born in Hopkinton about l768. He came to Partridgefield with his Family and relatives about 1790 and married Deliverance (Dilly) Curtis. The intentions were recorded December 28, 1795 in Peru. Elisha Died July 11, 1815 in Hinsdale. He was 47 years old.
When Elisha died his real estate consisted of 53 acres on the homestead in Hinsdale and 20 acres more in Peru that his father Samuel purchased of Oliver Watkins.
Children of Elisha and Dilly;
Daniel born June 28, 1797 in Peru.
Jesse born February 3, 1798 in Peru.
Curtis born February 9, 1800 in Peru.
Horace born January 20, 1802 in Peru.
Leman born December l5, 1803 in Peru.
Infant died November 11, 1809 Hinsdale aged 4 weeks.
Laura
Betsey
Sally
Alvira
Almira
The children of Elisha and Dilly are recorded in the Peru records until the year 1803 and then in Hinsdale. The town of Hinsdale was incorporated in 1804. This could mean they lived on land which is now Hinsdale but was then Partridgefield.